A good Employee of the Month scheme needs to motivate. It has to encourage  and foster great talent. It needs to apply to all elements of the business. It also has to have staying power.
Many businesses choose to brush past this technique in employee motivation, claiming that it's an outdated form of engagement. Most of the time, that's simply because they've not made the scheme work as well as it can for their organisation.
For those who already have one in place, here's our advice for making Employee of the Month a year-long success:
 Shout about it! Whether you meet as a company, or the scheme is communicated electronically, make sure people know about it. Failure to understand the parameters of the scheme is one of the biggest barriers to it succeeding. Post a photo of all nominees together on social media, publish the best nominations in the company newsletter, or give each nominee a voucher or time off as a reward for their achievements.
Recognise personal achievements. Say an employee has run a marathon or got engaged recently, your employees have lives outside of the office, and a little recognition of who they are outside of work goes a long way! Reward and recognition shouldn't stop at an Employee of the Month scheme. The scheme's structure should be geared towards recognising successes and developing the culture of your organisation throughout the year. It may come at Christmas, in the form of annual bonuses, or simply by saying 'thank you' more often. A culture that aims to recognise success and achievement should be a year-long commitment.
Encourage people to talk about work. A suggestions box, a company-wide feedback form, or appointing an employee relations committee will emphasise the company's desire to understand and support its workforce in many ways that an Employee of the Month scheme cannot. This kind of activity also gives you a chance to get to know your employees' perceptions towards the business, which can only be a good thing.
Motivate your Staff with a Travel Incentive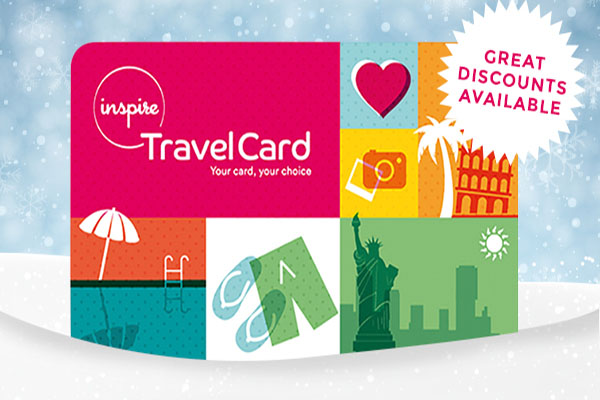 Whether it's to reward an employee for a one-off achievement, or an incentive as part of an Employee of the Month scheme, the Inspire Travel Card is a gift card that offers your employees a holiday! With so much choice available from over 250 of our travel partners – which includes Emirates, Sandals and Thomas Cook – finding something that works for everyone's tastes and budgets couldn't be easier. The card works like a gift card, where you can either upload a pre-determined amount or add to it throughout the year. Your staff can then use that as money off a deposit, trip or excursion, across the UK and around the world.