We like to think of the Inspire Travel Card as one of our flagship products. It's one of the most popular benefits and incentives we offer.
So how does the Inspire Travel Card work?
The unique thing about the Inspire Travel Card is that it offers a world of flexibility while at the same time, retains the security and reporting that all good benefits and incentives should offer. The Inspire Travel Card is incredibly simple to use. Working in the same way as a high street gift voucher, it can be loaded with a predetermined amount for use with Inspire – an ABTA and ATOL licensed agency. Even better still, we work with over 250 partners internationally including Expedia, Thomas Cook, Jet2Holidays, Kuoni, Haven, Butlins, Hoseasons and Superbreak, so there are no limits to where you can go!
It is perfectly secure
Companies can track the amounts spent by its prize winners or employees, meaning that they can keep on top of budgetary restrictions, as well as providing them with live updates. It also allows users to top up funds from their own pockets, which is great if you want to make full use of the flexibility the card offers. Say you've got a pre-allocated amount of £300; your customers or employees can either spend up to the maximum, top it up with their own funds or use the rest of the balance on another transaction.
Are you wondering if it's the right thing for your employees, customers or business?
You can make use of the Inspire Travel Card as a benefit for your employees. You can also make use of our ability to offer bulk discounts, or as part of your employee benefits portfolio. We've had fantastic feedback on how the card has rewarded and incentivised staff – take a look at our Red Letter Days case study to find out more on how the product has helped keep staff engaged and increased retention rates too. Or, if you're softies at heart like us, you can use it to say 'thank you' for a job well done.
We often find that our clients have found real benefits from using our services as part of B2B and corporate incentive or reward schemes.  As a business, you can take advantage of our ability to bulk order trips and travel, develop your own branded booking platforms and receive regular, custom-made deals for you too. It couldn't be easier to bring the Inspire Travel Card into your business needs!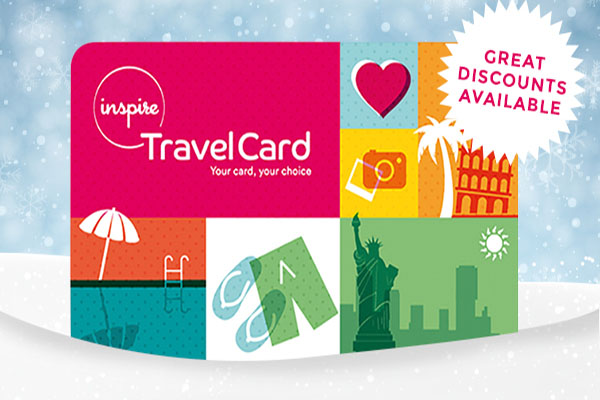 Whether it's to reward an employee for a one-off achievement, or an incentive as part of an Employee of the Month scheme, the Inspire Travel Card is a gift card that offers your employees a holiday! With so much choice available from over 250 of our travel partners – which includes Emirates, Sandals and Thomas Cook – finding something that works for everyone's tastes and budgets couldn't be easier. The card works like a gift card, where you can either upload a pre-determined amount or add to it throughout the year. Your staff can then use that as money off a deposit, trip or excursion, across the UK and around the world.